I was planning to build a new workstation for myself for quite some time, and then finally settled for a "silent build" with one powerhorse of a processor: the AMD Ryzen ThreadRipper 1950X. A short rundown on the components I picked up:
AMD Ryzen ThreadRipper 1950X CPU (16 cores, 32 threads)
64GB RAM (Corsair Vengeance DDR4-3200)
ASRock X399 Taichi Mainboard
2x 1000GB SanDisk Extreme PRO M.2 2280 SSD
8000GB Toshiba N300 HDD
Enermax LiqTech TR4 II RGB 360
bq quiet! Dark Power pro 11 PSU (850W)
be quiet! Dark Base 900 Pro rev.2 full-size tower
As gaming is not really my main focus, I decided to stick with my trusty MSI GTX960, which is still perfectly well suited for an occasional shoot-out.
The RAM is not listed on the X399 Taichi's QVL for memory - nevertheless, it was detected without any troubles and immediately accepted its XMP Profile for Quad-Channel @3200 MHz.
After putting it all together and installing Debian, I was set back by the machine spontaneously coming to a freeze. Oh noes! I spent way too much time before going the easy route and installing the latest Firmware (3.50 at the time of this writing, mine was 3.20) et voilà — troubles gone, machine is running stable.
I am not yet into overclocking, but the cooler I went for (the Enermax LiqTech TR II 360) does have a lot of potential, probably moving away up to 500W of thermic. That is an all-in-one water-cooling unit specifically designed for Threadripper CPUs, if you haven't noticed by the "LiqTech" in its name.
Yes, the PSU is totally over-dimensioned and probably has another 300W to spare. Who knows? That power may one day be fed to another GPU or into an overclocked CPU.
The case, by the way, is one of the finest I ever bought. It is highly customizable and flexible (read: complicated and tedious to assemble), and provides some very nice dampening. Also, it brings along 3 large and absolutely silent coolers. Also, it brings 2 strips with RGB-LEDs, which add a ridiculous amount of playful color and "bling" into the case. That does fit in with the Enermax, which also brings some quite sophisticated RGB-LED system. Have I mentioned the RAM? It comes with RGB-LEDs. I was almost relieved to find out the harddisk and SSDs don't "bring in the bling", yet it would no have taken me by surprise.

---
Here's some pics of the assembly: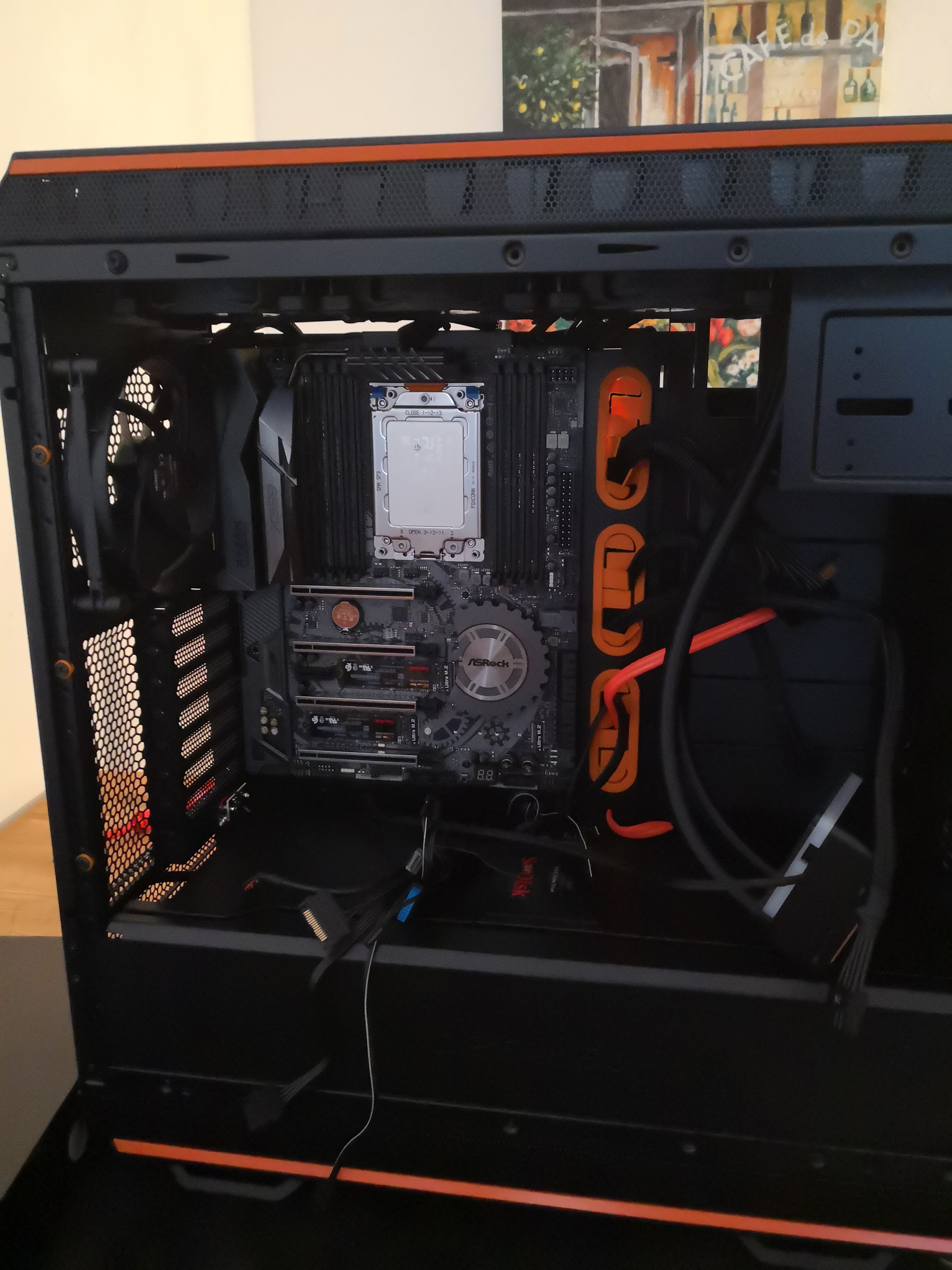 Mainboard with CPU assembled. Water-cooling radiator mounted in the top, pump is dangling down.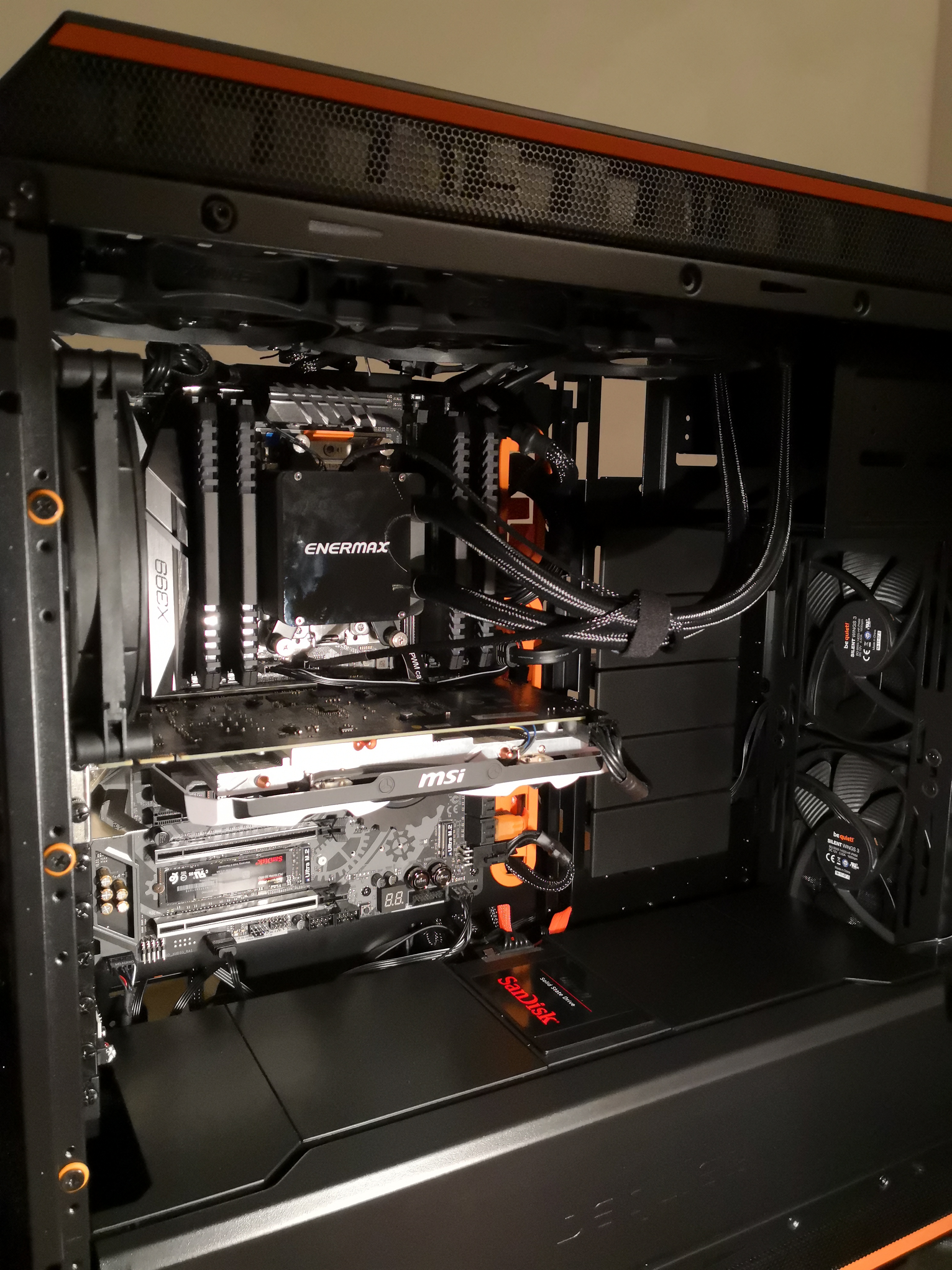 Everything is in place, RAM and graphics card have been plugged in and the water pump is mounted on the CPU.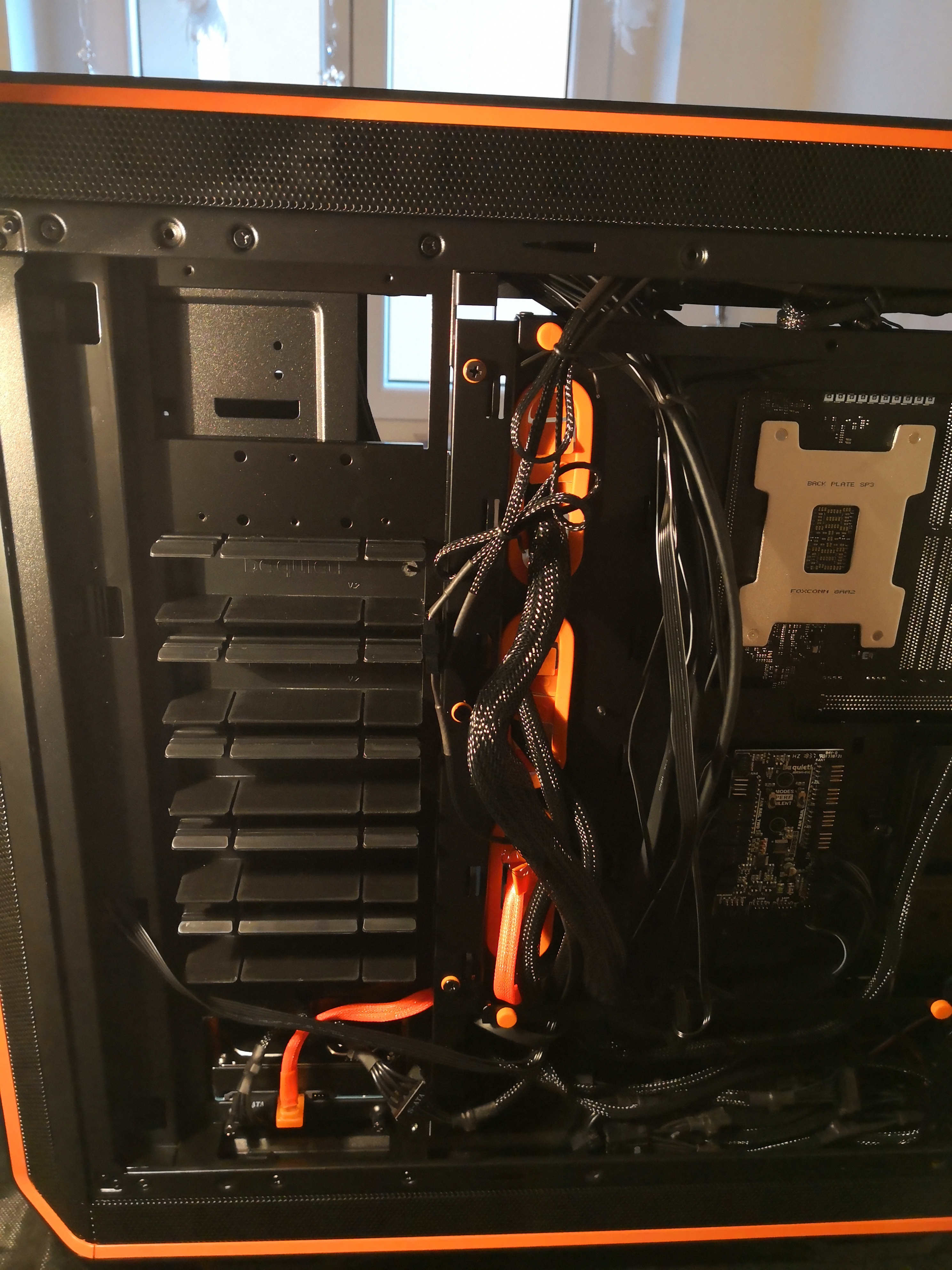 Backside of the Mainboard tray: Currently unused power cables are stowed in the bottom. Other cables are routed to their connectors via several slots.
Also, the Dark Base Pro 900 has a nice approach to cable management. Most of the cabling can be passed on the back side of the mainboard tray, leaving the main chamber of the computer in a nice and tidy shape. So much for now on my custom build! I'm curious about the machine's real-life performance, so I need to get going now :)